Who would have thought that an LFKL pupil would one day end up at the Queen of England's Palace? Meeting such a person in the form of Mathieu Haskins, a 21-year-old Anglo-Frenchman and former LFKL pupil was precisely the opportunity our Advanced English teacher, Mr Moustafy, gave us on October 2nd, 2018.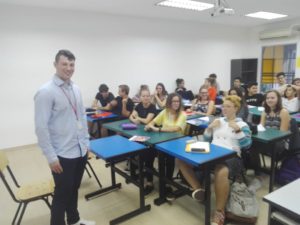 In lower secondary, he was perceived as an average pupil, the one who was "kind of out of control during break time". Few people believed in him due to his low grades and some suggested he went for vocational baccalauréat in France. As it turned out, the French educational system just did not suit him. Yet, Haskins had ambitions. His first plans included enlisting in the army and becoming a real estate agent. But while his heart problems saw a potential career in the army fly away, he changed his mind regarding the real estate business.
Some however did see real potential in him beyond his school results and thus he found another route: the International Baccalauréat (IB), which teaches students the relevant techniques to integrate in the professional world in a -furthermore- very international cultural background. Attracted to the idea, Haskins decided to move to England and sit for the International Baccalauréat. Soon after, he completed his studies successfully but once his diploma achieved, he still had no idea what he wanted to do.
He decided to study psychology for two years but since he did not like this subject either, he then moved to business management and studied in UCL (University College London), one of the best universities in England. Still unsatisfied, he chose to take cooking classes in RuTC (Richmond upon Thames College). Thus, while drowning at day under his management classes, at night he was free to cook with other cooking lovers and partake in culinary competitions.
So, how did Haskins become the Queen's chef? After all these university and cooking classes, he one day had the opportunity to do a two-week work placement at Windsor Castle, and his employers were so pleased with him they decided to extend his contract.
Now, Haskins is working full time in the kitchen, tasked with the palace meals. He wakes up every morning at 5am and his work days can last from 8 up to 19 hours. Being a chef also means that 13 people older than him are working under his care. Haskins does highlight the fact that being younger, he must build a respectful and teamwork-based relationship so the kitchen and meals are well planned.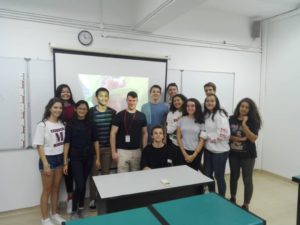 Through food metaphors, Haskins gave us advice to succeed and be happy in life. He insists first and foremost on working with what you have. Indeed, Haskins' best cooking is made from ingredients he finds in the fridge at the end of the month, which he succeeds in transforming into exceptional dishes.
In life, you should not try to complicate things too much either. Just like a dish which becomes cold if you spend too much time on it, being stuck on an idea for too long makes you likely to distance yourself from it.
In the end though, one thing Haskins is sure of is that we learn from our failures and will keep learning all our lives long. Passion and diligence at work are key, and what drives us to succeed. "It is not how we fall, it is how we get back up", he says.
Haskins also gave us a metaphor regarding happiness at work. In this world, there are sheep and there are wolves. One is not better than the other; it is merely a matter of perspective. Some may be happier working a 9 to 6 job in an office, Monday to Friday, knowing their salary is guaranteed. Others may prefer more independence and freedom but will encounter greater financial risks. Those are the wolves. To each one's idea of happiness.
~ The 2018/2019 Literary stream students in Force