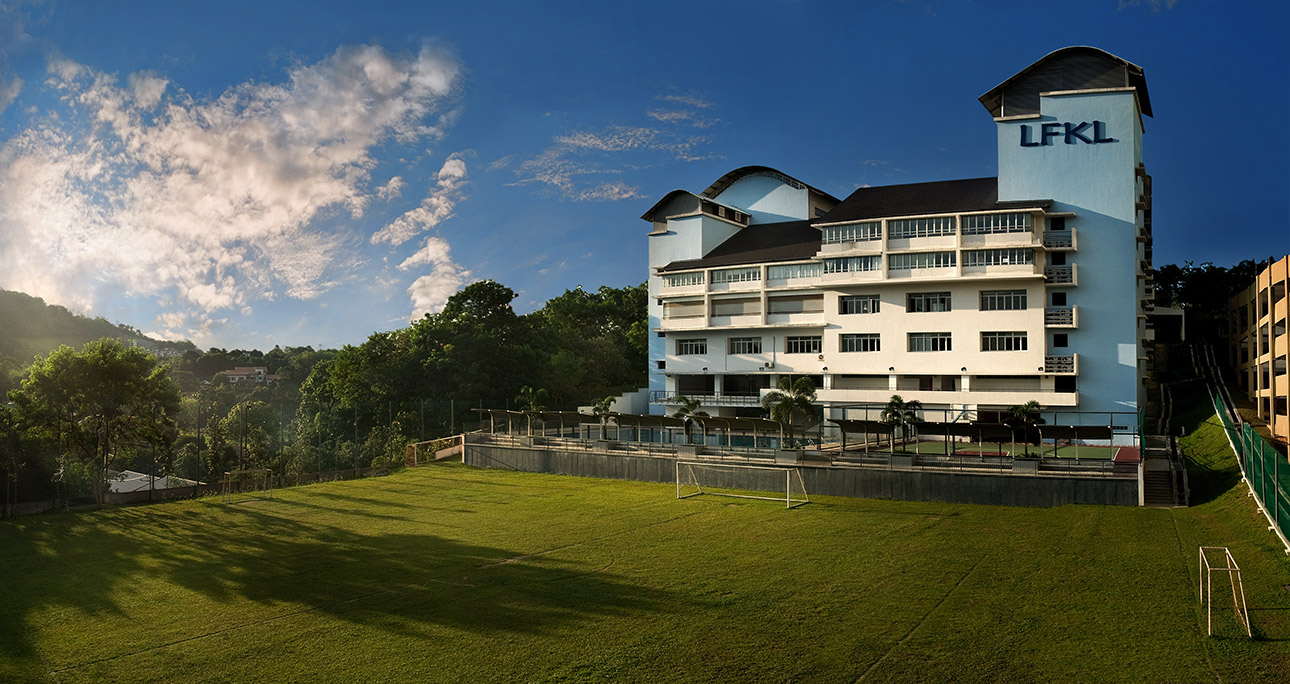 Why choose the French curriculum?
A NATIONAL CURRICULUM WITH AN INTERNATIONAL REACH
Did you know that there are over 522 French schools in 139 different countries and that the French Baccalaureate is well recognized internationally?
Most of the French schools abroad are part of one of the world's largest school network called the AEFE (The Agency for French Education Abroad) that brings together over 370 000 students.
French schools under the AEFE share a unique educational program, allowing students to follow the same curriculum everywhere around the world without having to go through any admissions exam when moving from one country to another (seamless transfer).
Another great advantage of the French curriculum is its well-recognized Baccalaureate. It allows students to apply to outstanding universities and well-known higher learning institutions in the European Union countries, in the UK, in Australia, in Canada, and to a number of Universities in the USA and in many other countries.
With the help of qualified teachers attached to the French Ministry of Education, students are always encouraged to cultivate knowledge and to engage in creative problem solving.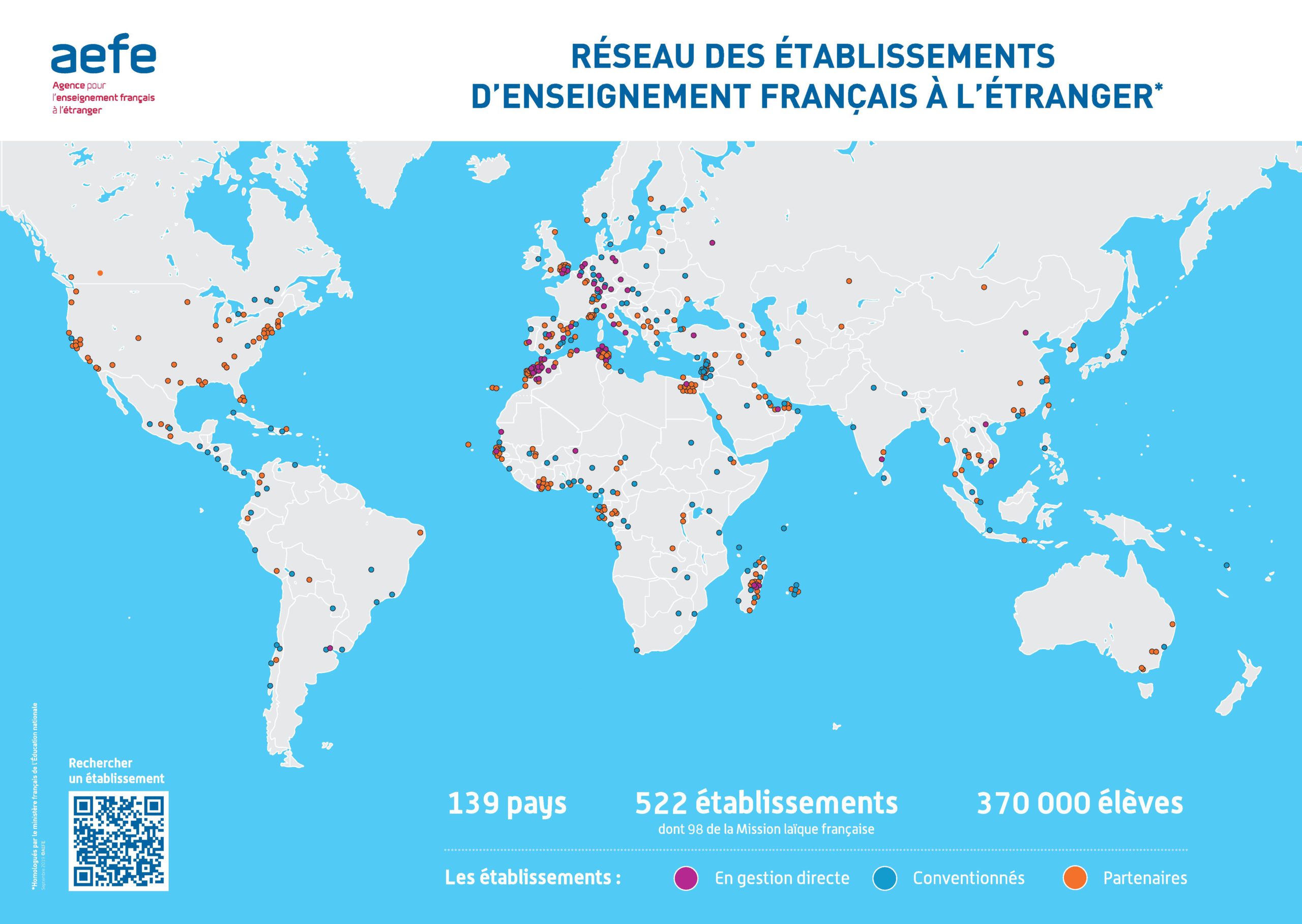 The French education is known for its high academic standards, for its multilingual learning system and its cultural openness.
HOW IS THE FRENCH CURRICULUM STRUCTURED?
French schools' programs are designed to integrate pupils from the age of 3 to 18 years old, from preschool all the way to high school without any interruption.
The aim is to prepare toddlers to become future primary school students and secondary school students to become future global citizens.
The curriculum is structured in 3 cohesive Primary school cycles followed by Middle School and High School.
FIRST CYCLE
The first cycle is the Basic Learning Cycle, Nursery School (école maternelle) from 3 to 6 years old.
This cycle consists of three levels: Tres Petite Section (TPS) for 2,5  years old, Petite Section (PS) for 3 years old, , Moyenne Section (MS) for 4years old and Grande Section (GS) for 5 years old.
The nursery curriculum includes numeracy, reading, writing, artistic, creative activities and a second language (which is English at the LFKL, 8 hours per week).
MIDDLE SCHOOL
The Secondary School starts with Middle School ("collège" in French) for the ages of 11 to 14 years old.
The fourth cycle is the Further Learning stage (Sixième, Cinquième, Quatrième, Troisième), it allows students to enjoy a very broad curriculum by taking all of the fundamental subjects.
In middle school, pupils follow subjects such as French, Civic Education, Mathematics, Life and Earth Sciences, History and Geography, Technology, Art, Musical Education, Physics and Chemistry, Physical Education, two Modern languages along with the cross-curricular teaching of the history of art.
At this stage, in addition to English, LFKL students have the opportunity to select a third language to learn (German, Spanish, Mandarin or Bahasa Melayu) and pass tests for international language certifications (Cambridge, DELF, DELE, IELTS, HSK).
SECOND CYCLE
The second cycle is the Fundamental Learning stage, Elementary School (école élémentaire) from 6 to 8 years old.
This cycle mainly focuses on learning to read and write the French language and Mathematics.
Students will also learn additional core subjects such as literature, , a second language (which is English at the LFKL, 5 hours per week), activities to discover the world, artistic practices which involve visual arts and musical education and many more.
During this cycle, the LFKL offers a special bridging program to facilitate the integration of non-French speaking students. The program consists of 7 hours of extra French classes per week provided in small groups and typically lasts for one year.  This helps children rapidly improve their command of the French language.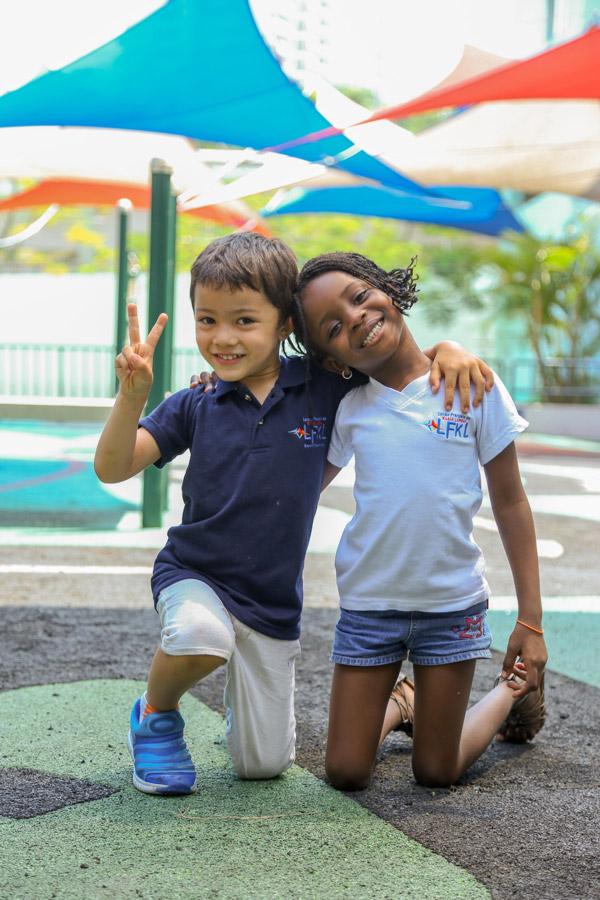 THIRD CYCLE
The third cycle is the Consolidation cycle (also part of the Elementary School) from 8 to 10 years old.
During this cycle, the knowledge and skills acquired in the second cycle are reinforced, whilst new disciplines such as experimental science and technology are introduced as additional core subjects.
During the last year of the third cycle, the objective is to consolidate the learnings of primary school and prepare students for the new learning environment they will experience middle school.
HIGH SCHOOL
The last and final cycle is the High School ("lycée" in French) from 15 to 18 years old.
The final three years (Seconde, Première, Terminale) of secondary education leads to the baccalauréat.  To that end, students can customize their curriculum and choose specific subjects related to their intended future field of study or career.
The choice of subjects offered in the new Baccalauréat program are Arts, History & Geography, Geopolitics& Political Science; Human Sciences, Literature & Philosophy; Digital Technology & Computer Science; Foreign Languages, Literatures & Civilisations (English); Mathematics; Physics & Chemistry; Earth & Life Sciences; Economic & Social Sciences.
French school pupils are known to have a broad culture. The broad range of subjects gives them exposure to a number of topics which makes them whole students who can debate and think critically about a number of subjects.
WHAT ARE THE KEY EXAMS AND CERTIFICATIONS IN THE FRENCH SYSTEM?
At the end of the (Troisième, Year 10), students sit for an exam called the Diplôme national du brevet (DNB) which assesses the knowledge and skills that the students have learned in middle school. Coursework is taken into account which is inclusive of three written exams covering French, Mathematics, Civic Education, History and Geography, and an oral exam based on educational paths: art history, academic guidance, civic education, health and prevention.
At the end of secondary school (Terminale, Year 13), students will need to sit for the baccalauréat exams.  The French Baccalaureat is highly recognized internationally and allows students to apply to universities in the European Union countries, in the United Kingdom, in Australia, in Canada, in the United States and in many other countries.  To some extent, the French baccalaureat even brings a "distinction" to the profile of a student that might set it apart from other applicants.  Many universities are keen to accept students from diverse backgrounds.