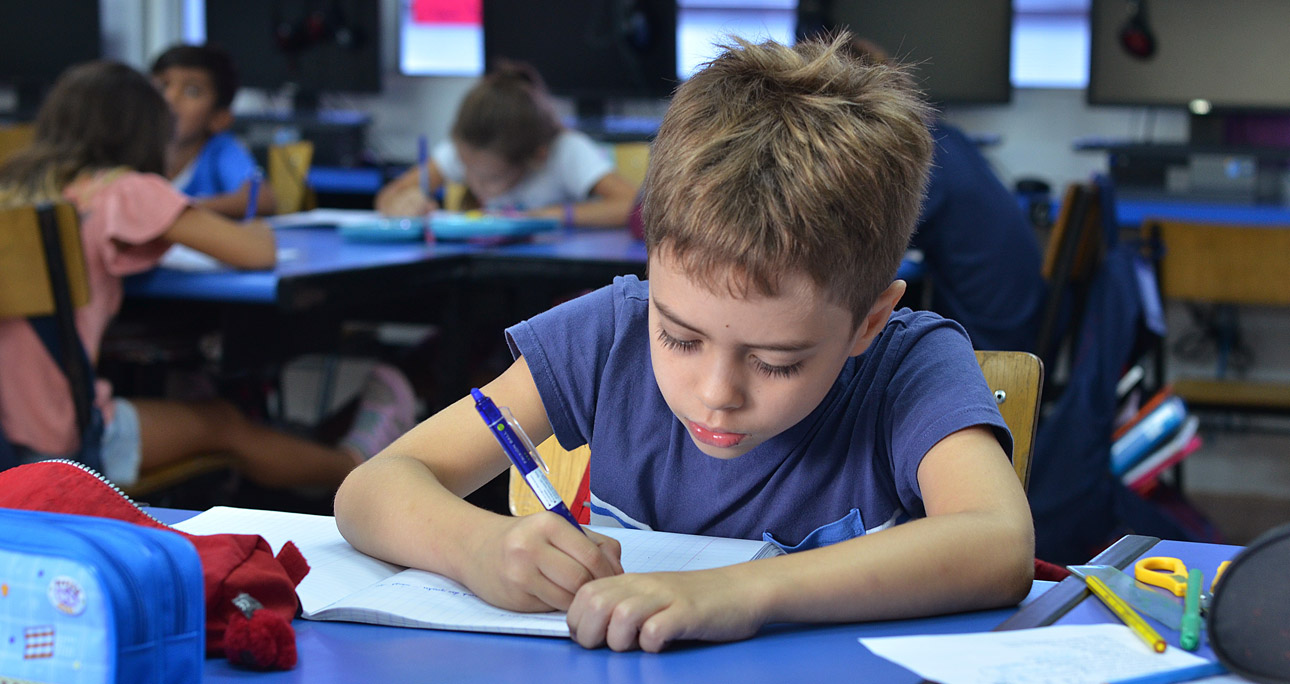 From 6 years old to 11 years old : CP, CE1, CE2, CM1, CM2 (Year 2 to Year 6).
The French School in Kuala Lumpur opened its new primary school, Hevea on the 1st of July 2020. With brand new facilities, the school is also accessible by foot, 100 meters away from the current LFKL school.
Hevea welcomes children from the age of 3 to 8 years old in a safe, spacious and green environment.
Hevea is open to non-French speaking students from the "Très Petite Section" (Pre-nursery) to the "CE2" (year 4 of primary school), so from the age of 3 to 8 years.
The school provides new facilities such as swimming pool, a colourful playground, a canteen, activity and napping rooms adapted for small children.
Pupils in CM1 to CM2 (aged 9 to 11) are then accommodated in the LFKL building.
The Primary School Cycles
The National Curriculum for the primary school defines for each educational domain the knowledge and skills to be attained within each cycle :
• The Early Learning Cycle (Petite, Moyenne and Grande sections of the Kindergarten);
• The Basic Learning Cycle (Grande section of the Kindergarten, CP and CE1);
• The Consolidation Cycle (CE2, CM1 and CM2)
Regular evaluations by the teachers ensure assessment of the knowledge acquired by students and their level; they will contribute to the validation of the intermediary stages of the mastery of the Common Base of Knowledge and Skills. They are sent to the families and encourage useful dialogue to monitor the children's schooling.
Monday
Tuesday
Wednesday
Thursday
Friday
School hours in the morning
8am – 11.30am
8am – 11.30am
8am – 12pm
8am – 11.30am
8am – 11.30am
Number of school hours in the morning
3h30
3h30
4h00
3h30
3h30
Lunch time
11.30am – 12.30pm
11.30am – 12.30pm
11.30am – 12.30pm
11.30am – 12.30pm
School hours in the afternoon
12.30pm – 2.30pm
12.30pm – 2.30pm
12.30pm – 2.30pm
12.30pm – 2.30pm
Number of school hours in the afternoon
2h00
2h00
2h00
2h00
Total of class hours per day
5h30
5h30
4h00
5h30
5h30
Number of class hours per week
26 hours
complementary educational activity or homework assistance (optional)
2.45 – 3.45pm
2.45 – 3.45pm
2.45 – 3.45pm
2.45 – 3.45pm
After school activities
2.45 – 4.15pm
2.45 – 4.15pm
1pm – 2.30pm
2.45 – 4.15pm
2.45 – 4.15pm
SCHOOL SUBJECTS (CP-CE1-CE2 / Year 2-3-4)
School subjects

Yearly hours

Weekly hours

French
360 hours
10 hours
Maths
180 hours
5 hours
Modern languages
126 heures
3h30
Sports
108 hours
3 hours
Arts
72 hours
2 hours
Moral and civic education
90 hours
2h30
TOTAL
936 hours     26 hours
SCHOOL SUBJECTS (CM1-CM2 / Year 5 - Year 6)
School subjects

Yearly hours

Weekly hours

French
288 hours
8 hours
Maths
180 hours
5 hours
Modern languages
126 heures
3h30
Sports
108 hours
3 hours
Arts
72 hours
2 hours
history and Geography
72 hours
2 hours
Moral and civic education
90 hours
2h30
TOTAL
936 hours     26 hours