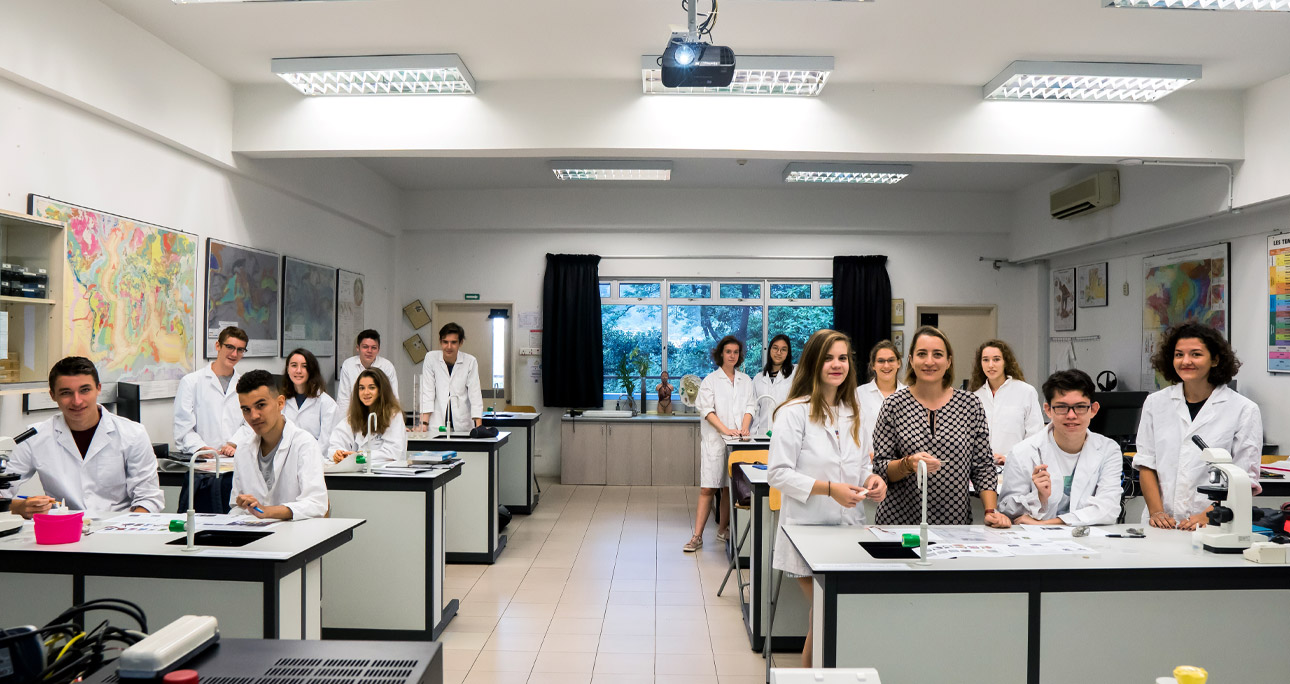 From 15 years old to 18 years old : 2nde,1ère, Terminale (Year 11 to Year 13).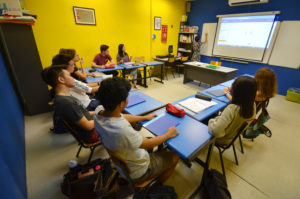 Once LFKL students enter High school, they start preparing for their final examination, the French Baccalaureate, that enables them to pursue their future education, in renowned French and international universities.
A new French Baccalaureate program for 2021
Former sections "Science", "Litterature" and "Economical Science" have been replaced by new "Speciality courses", allowing students to choose new subjects (such as Arts; History-Geography, Geopolitics and Political Science; Human Sciences, Literature and Philosophy; Digital Technology and Computer Science; Foreign Languages, Literatures and Civilisations (English); Mathematics; Physics-Chemistry; Earth and Life Sciences; Economic and Social Sciences) to customize their curriculum.
Specialty courses:
Students will start selecting 2 specialty courses in "Seconde" (Year 11), they will pick 3 specialty courses (4hours each) in "Première" (Year 12) and then they will go into 2 of these subjects in depth (6hours each) in Terminale.
Examination:
Students will sit for a first French test in 1ère (written and speaking) and 4 tests in Terminale (2 for the specialisation subjects, 1 philosophy test, 1 final speaking test). The essays require in-depth analysis and a well-reasoned response.
Common subjects:
Students will be studying common subjects (French in Première, philosophy in Terminale, history and geography, moral education and citizenship, two foreign languages, physical education, science).
Baccalauréat examinations are developed at the French national level, with the same exams given in every French School around the world, starting from the end of the Première and Terminale years.
A continuous assessment is also included, representing 40% of the final grade divided as per below:
10% for the consideration of the 1ère and Terminale transcripts of results in all subjects to encourage students to study regularly.
30% for common continuous assessment tests organised within the schools in 1ère and Terminale to credit the students' work.
High school leads students to the Baccalauréat, an examination that validates the knowledge and skills of students before starting their higher education.
The European class (Section européenne – SE) is offered to upper secondary school students, from 2nde to Terminale, and helps them develop their skills in foreign languages as well as their knowledge of foreign countries' cultures.
At LFKL, this optional class includes two extra hours of teaching per week: one in History and geography and one in English.
In English, the focus is on getting the students to work on their speaking and listening, in the shape of debates (MUN), radio broadcasts, presentations, etc.
The MUN (Model United Nations) is a simulation of a United Nations conference. Students choose a country from the list, enrol in a committee and start researching the topic on which they will debate during the MUN. The end purpose is to draft a resolution.
This term, 1ère students have just finished addressing the "climate refugees" theme.
Through its playful format and formal language, the MUN enables students to develop a taste for debate and the stakes of the contemporary world.
During each MUN, the students give an opening speech reminding their audience of the position of the country they represent.
In the course of the 3rd term, students will work on the use of drones for bombing as part of anti-terrorism operations. A debate on the death penalty shall also be organised in class.
Still within the framework of the European class, LFKL organises cultural exchange activities and each year, our students participate in events such as the SIMUN, held in Singapore.
This year, four of our journalist students will go to Singapore: Garance Epiphanic, Maxime Granier, Sarah Rost and Neyla Belhaouas. They will be tasked with publishing articles on all of the SIMUN's agendas and committees (and especially on our students' performances).
This optional subject gives our students the opportunity to meet other students from international schools as well as various French schools of the Asia-Pacific area around language projects. Together with the LFD students, they have set up a blog to communicate on the various topics.
"European Class" mention on the Baccalauréat diploma
The "European class" mention appears on the Baccalauréat diploma. Choosing the European class allows the Baccalauréat candidates to sit for a specific exam in view of having the "European class" mention followed by the language concerned appear on their diploma.