NATIONAL DOODLE ART COMPETITION 2020-2021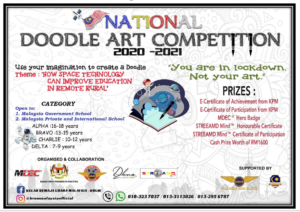 The above was the official invitation to join the competition.  This competition was a joint organizer initiative by Kelab Remaja Udara Malaysia (KRUM) or Malaysian Teenage Space Club – a club in the MOE School, Ministry of Education, MDEC, Diens Gallery and STREEAMD Mind.
This competition was a unique competition concept which ensured the students to expose their scribbling, scrawling and sketching visions.  At present, students are heading towards the INTERNET OF THINGS.  This competition was created as a check and balance with cognition and emotion application using their hands rather than a computer keyboard to capture information and transfer to produce intense details.
Doodle Art associates with creativity, health and wellness, positive thinking, memory-building and more.  It is a powerful art form that helps students and teens to think, focus and relax.
9 students from college took part in this competition.  2 won first and second prize in the BRAVO category and 1 won the top 10 prize in the CHARLIE category.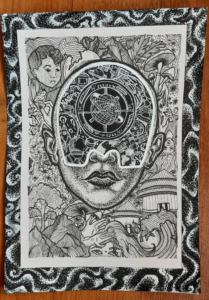 1st Prize Winner (BRAVO Category)
Louise Boura 3B
Description
I represented the theme "How Space Technology Can Improve Education in Remote Rural" by drawing a human face representing the educational system and replaced his brain and eyes by space technology doodles. Example, satellites enable internet connectivity to a majority of people that live in remote rural areas. With access to the internet comes increased knowledge sharing and greater communication, which benefits education. The doodle around it represent the remote rural areas, and the faces; the population that leaves there.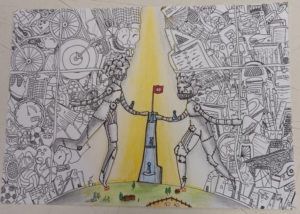 2nd Prize winner (BRAVO category)
Zhang Mei Tong 4A
Description
2060…Human created gigantic robots who are nice and friendly, they can carry extremely heavy things and since their feet are tiny, they won't destroy any buildings while walking. There are also AI teachers who can be carried by them, they can provide the best education for students in Rural areas.
The robots can make transporting supplies a lot easier and if we have AI teachers, we won't have to worry about the lack of excellent teachers.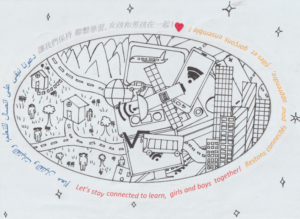 6th Prize Winner (CHARLIE category)
Lucie Foucher Mansouri 6A
Description
This subject inspired me because every child has the right to education and no matter where we live or the country's situation, we should stay connected to learn.  I imagined a planet that shows education is universal, and everyone should be able to access it, whether in lockdown or not.
I imagined the planet to look like a rugby ball to show the importance of being a team. Everyone is accessible to education (there's no off-side people).  I pictured technology moving in different ways, to remote rural to show solidarity for all, and no gap between the poor and rich.