In the framework of the moral and civic education of the premières, the students carried out a year-long project in cooperation with the UNESCO Chair in Social Practices of Intercultural Communication and Social Cohesion, located at Universiti Kebangsaan Malaysia.
As the annual theme of the premières programme is social cohesion, we tried to answer the following questions: what representations do the French and Malaysians have of social cohesion? Do they differ between the three Malaysian ethnic groups?
The objective was to communicate the empirical reality of social cohesion in Malaysia, in particular by contrasting it with the perception of a French expatriate community.
To this end, we decided to conduct qualitative surveys through semi-structured interviews.
This "project of the year" allowed the learning of notions and favoured the acquisition of expected capacities which went far beyond the expectations of the première programme: once the theoretical and methodological bases were acquired, the groups of students designed an interview grid allowing to measure social representations by mobilising theories and concepts, conducted the interviews and transcribed them in order to make horizontal and vertical analyses by spotting occurrences and recurrences, and finally to draw conclusions.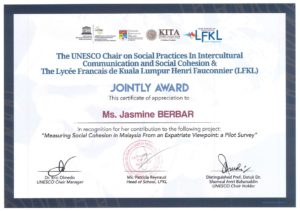 The students were wonderfully involved in this project and will soon receive a certificate of appreciation from the UNESCO ORBICOM Chair and the LFKL.
As the UNESCO-ORBICOM international conference we were supposed to attend in early June 2021 in Miri has been postponed to June 2022 due to health restrictions, Mr Olmedo and I will gladly repeat this wonderful experience next year with the future première classes, hoping that they will be able to present the conclusions of their work on the occasion of the 9th UNESCO-ORBICOM symposium to be held in Miri, Sarawak, East Malaysia, from 8 to 10 June 2022
Congratulations again to the premières!
And a big thank you to Mr. Olmedo for his support in this work and the delivery of these certificates!
Mrs Catherine Garland