Mrs Bouchard, Sciences of Life and earth teacher
Mrs Bouchard, Sciences of Life and earth teacher
How long have you been teaching at LFKL?
It's been two years now since I'm working at LFKL.
Why have you chosen to teach in LFKL?
My whole family was looking for an experience abroad and we wished our kids to be schooled in the AEFE network.
Malaysia is at a crossroads, geographically speaking. Plus, it has splendid tropical islands and a very rich and diverse flora and fauna.
What do you like about your profession?
Several fields of interest combine in my profession — study of the environment, personal contacts, moral values, autonomy in the classroom, opportunity to share projects.
Sciences make for a fabulous tool with which to stimulate curiosity, question oneself, and root knowledge in experimental practice. And it's even better when one teaches to small numbers of students at a time, as is the case here.
What type of projects have you organised so far with your students?
I worked on natural hazards and health related risks of certain types of behaviour, with 9th graders.

Outside of the classroom, a pedagogical outing was organised to provide the students with a concrete experience. Artistic and water related activities made them appreciate the biodiversity of a Malaysian island, and they wrote a message on the walls of LFKL to promote its preservation.
Students also organised an act of solidarity in LFKL, selling wristbands so as to help people from Sulawesi, hit by a tsunami in October 2019.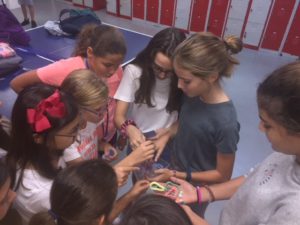 How would you characterise LFKL? What do you consider its key strengths?
LFKL is a melting pot. Its key strengths lie in the diversity and small number of its students, dynamic but also vulnerable, its location in a green setting and its enthusiastic staff.
How would you characterise students from LFKL? What do you expect from them?
Students in LFKL are eager to learn, committed and surprising!
I expect them to trust me and prove willing to learn together, richer as a group for having each a unique personality.
On the whole, they're quite good at it!