Mrs Sreenivasan, secondary school English teacher
Mrs Sreenivasan, secondary school English teacher
How long have you been teaching at LFKL?
I have been an English teacher at the LFKL for two years now.
What do you like about your job?
The best part about working here are the students. They are dynamic, well-behaved, hard-working and curious about the world around them. Their attitude towards learning makes me look forward to going to school every day.
Kuala Lumpur is a fantastic city to work in and offers several opportunities for learning. It has cultural spaces, parks, educational centres as well as areas to practice sports. Being in a large city provides opportunities to collaborate with professionals and institutions for various projects.
What type of projects have you organised so far with your students?

This year, my 9th grade group will be participating in a journalism project while my 8th graders will be researching the indigenous peoples of Malaysia and taking part in a storytelling project after a visit to the national museum. We are also involved with other schools in international projects like the Model United Nations (MUN).  All these activities increase student engagement and confidence while building critical thinking.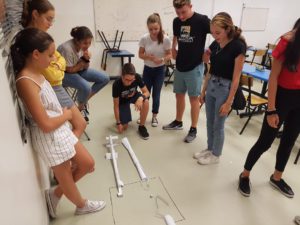 This year, I gave my students (year 7 to year 11, 6ème to 2nde) two assignments to complete in groups with a limited number of materials. Both activities were designed to promote creative thinking, collaboration and communication skills.
For the first one, they had to make the longest bride possible that could hold up a certain number of items that we put on them. The second one was about making the longest and sturdiest track possible for a marble to pass through and come to a stop within the square I drew for them.