Mrs Michel, primary school teacher
Mrs Michel, primary school teacher (Year 2)
How long have you been teaching at LFKL?
I've been a primary school teacher in LFKL for one year, so it's the second school year I'm about to begin with 2nd graders and I'm thrilled!
Why have you chosen to teach in LFKL?
My family and I had been intent on living abroad, together, in Asia for several years. Malaysia appeared to us as an opportunity to be closer to the many Asiatic countries we would so much love to visit.
Kuala Lumpur, as the capital, is the place to live when you enjoy outings in urban as well as natural settings; which is our case as we are all very fond of sports. Our kids, aged 11 and 14, love it here as well, and it was important for us to get them registered in a French school, to become more fluent in English and let them enjoy good studying conditions.
LFKL is a quite pleasant school to work in, with a highly dynamic teaching staff.
What do you like about your profession?
I feel passionate about introducing young kids to the reading process. I've followed numerous training sessions in France around "reading and writing" in 2nd to 4th grade. More than just a job, it's a true vocation for me: I've been immersed in schooling since I was a child (both my parents were also primary school teachers).
I'm also part of a bilingual team with my colleague Roxanne Lang and work in close cooperation with my two 2nd grade colleagues Laurence Quintin and Laure Savoi. I really love this type of group dynamics.
What type of projects have you organised so far with your students?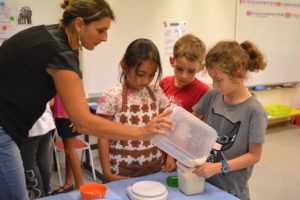 I love cooking, which is why I set up a pastry workshop entitled "my Wednesday tea-time snack". It's so great to interact with small groups of school kids in a different setting from the classroom!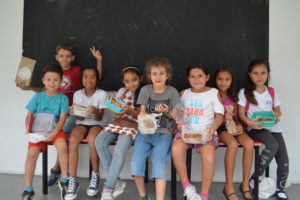 This year, I would like to manage more team projects, from 2nd to 6th grade. I launched an endurance programme in the 2nd trimester: kids from all levels will have to run a whole morning together on LFKL's sports field so as to attain a set goal.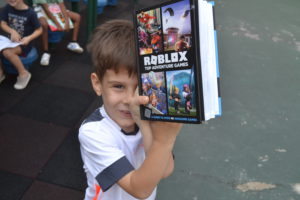 Last year, I came up with the idea of a "WORLD BOOK DAY ": students and staff left the classrooms to read in the open air during 5 silent and precious minutes.
Various activities had also been organised — in the classrooms and at the library — for primary school kids (quizzes, reading sessions, making of posters later displayed in the corridors)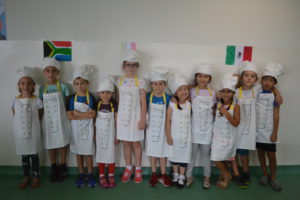 This year, I felt the wish to team up with our Chef to organise a "week of taste at school". My idea was to enable kids to discover flavours they're not accustomed to, and what's happening "behind the scenes" in the kitchens.
How would you characterise students from LFKL? What do you expect from them?
LFKL is a true melting pot of students. The mix of nationalities is a great cultural asset for the students here.